Sticky Notes app for Windows
There are a lot of sticky notes apps available for Windows computers. If you are looking for a simple sticky notes solution, you can try Sticky Notes - a built-in Windows utility that can be really useful to create quick memos. It is pretty basic and it doesn't have lots of options for note taking, but it does its job well. So, if you need an app just to put notes on your Windows desktop, Sticky Notes is a good choice.
For those who need a more powerful
note-taking app
,
JustNoteIt
is a good alternative.
Just Note It for Windows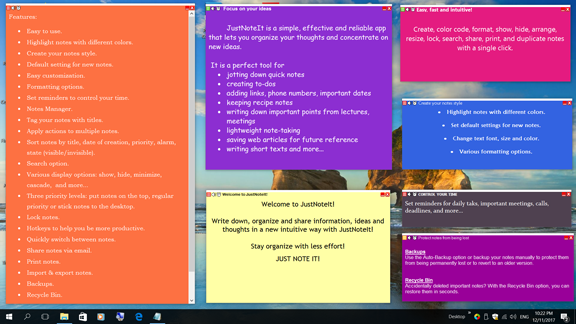 This app is intuitive to use yet powerful enough for all your note-taking needs. You can create, customize and organize your notes the way you need, create checklists, set reminders, search through your notes, share your notes and more.
It helps you write down, keep, organize and categorize your ideas, thoughts, quick notes and to-do lists. You can stick notes anywhere on your desktop to have all information in one place. Sticky notes will remain on your desktop until you delete them.
How to use the Sticky Notes app in Windows: The ultimate guide
Windows Sticky Notes lets you quickly create sticky notes on your Windows computer.
How to launch the Sticky notes app
To launch Sticky Notes, open the Start Menu and select All Apps. You can find Sticky Notes in the Windows Accessories folder. Or you can open the Start menu, type Sticky Notes in the search box and then select Sticky Notes from the search results.