How Form AutoFill works
Filling forms on iMac, MacBook, MacBook Air, MacBook Pro, Mac mini
Form AutoFill stores passwords and other information that you frequently input. When you turn on Form AutoFill, the next time you visit a website and start entering your information, Safari will offer you to fill out the web form automatically based on saved information.
This step-by-step guide shows you how to enable Form AutoFill, choose where to use Form AutoFill, what AutoFill options to select, how to save user names and passwords, update contact information and more.
How to autofill forms in Safari on Mac computers
It is really easy and takes a few minutes - just activate Form AutoFill in Safari and add information you wish to autofill.
When the Form AutoFill is enabled, start typing in the form's field and Safari offers you to autofill saved information. If you don't want Safari to autofill information, just keep entering information manually.
To turn the AutoFill option on, open Safari and choose Preferences.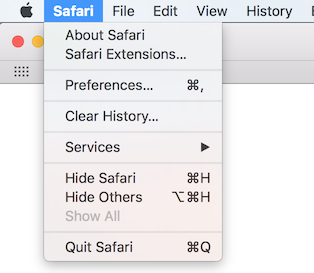 Select Autofill.

In the AutoFill tab, you can select to autofill web forms using your contact information, saved logins, passwords, credit cards information and other information you entered on webpages.
Using info from my Contacts card
If this option is selected, when you start filling a web form's field that matches the field in your Contacts card, Safari offers you to autofill this field with the information from your Contacts card.

By clicking the Edit button you can view or edit your Contacts card information.
User names and passwords
If this option is selected, Safari offers to securely save user names and passwords you input on webpages, so they are filled automatically when you visit the webpages again. You can easily edit or remove saved logins and passwords by clicking the Edit button.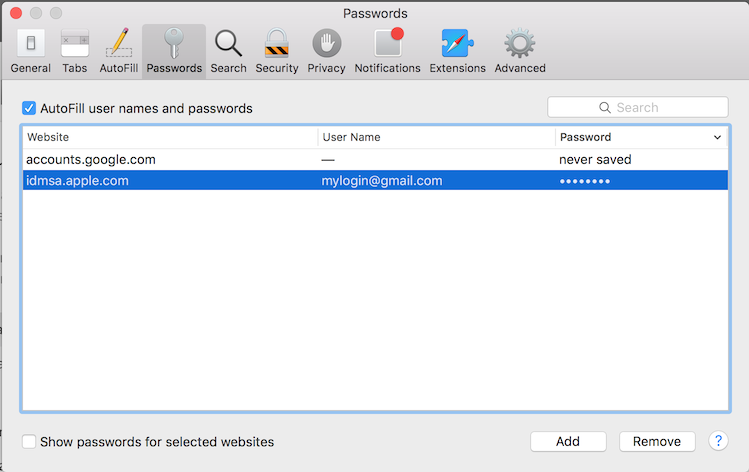 Credit cards
Check this option to securely save credit card information (credit card number, expiration date and cardholder name) you enter on webpages. In this case, when you use the credit card again, Safari automatically fills in the saved information. Click Edit to add, update or remove saved credit cards.
Other forms
With this option, you can fill the necessary data once and Safari saves information you entered and then automatically fills in the saved information when you visit the webpage again selecting information that matches a webpage url.
Safari form autofill:
If you have problems with filling forms in Safari:
1. Choose Safari > Preferences, click AutoFill and make sure the type of information you want to fill is selected.
2. Click Edit and check if the information you want to be filled automatically is saved.
E.g. if you wish to fill in you email address, make sure it is saved in your Contacts card.
To autofill a password, make sure it is saved in the Passwords autofill list and not marked as 'never saved'. If is is marked as 'never saved', remove the website from the list.
3. If AutoFill still doesn't work, make sure the website allows it.

4. Sometimes it happens that Safari may be unable to detect fields correctly.